How much does it cost for organizers to use Eventbrite?
Updated: 23/04/15
It's free for organizers to use Eventbrite as long as you're not charging for tickets! There are no monthly charges, enrollment costs, or setup fees—and Eventbrite gives you access to powerful reporting and promotional tools, mobile sales and box office features, and 24/7 customer support. If you're charging for ticket sales on Eventbrite, we charge 2.5% of the ticket price plus CA$0.99 per ticket, plus a 3.5% payment processing fee in Canadian dollars.
Understanding the 2 fee components
Fees only kick in when you actually make a sale, and it's important to make sure your payment processor is set up before that first ticket sells. There are 2 types of fees you'll want to know about:
- Eventbrite service fee: We charge 2.5% of the ticket cost plus CA$0.99 per ticket sold in Canadian dollars. No matter how much you're charging, we cap the Eventbrite service fee at CA$9.95.
- Payment processing fee: If you're using Eventbrite Payment Processing, the fee for processing online payments in Canadian dollars is 3.5% of the ticket cost. Eventbrite Payment Processing is the default way to accept payments when you set up a paid event, and in most cases the cheapest and smoothest option for organizers and attendees. There is no cap on the Eventbrite Payment Processing fee.
If you use PayPal or Authorize.Net to collect payments, the Eventbrite service fee is the same and you pay the fees set by these payment processors.
Currency
Eventbrite Service Fee
Max Eventbrite Service Fee
Payment Processing Fees
Supported Payment Methods
Australian Dollars
2.5% + AU$0.99
AU$9.95
Eventbrite: 3.5%

See PayPal fee.
Visa, MasterCard
Canadian Dollar
2.5% + CA$0.99
CA$9.95
Eventbrite: 3.5%

See PayPal fee.
Visa, MasterCard
Euros
2.5% + €0.75
€7.50
Eventbrite: 3.5%

*At this time, we only support using Euros with Eventbrite Payment Processing in Ireland, Germany, Spain, France, Netherlands, Belgium, and Austria.

PayPal fees vary by country.
Visa, MasterCard, American Express

SOFORT (Germany and Austria), iDEAL (Netherlands)
New Zealand Dollars
2.5% + NZ$1.50
NZ$15.00
Eventbrite: 3.5%

See PayPal fee.
Visa, MasterCard
Pounds Sterling
2.5% + £0.65
£6.50
Eventbrite: 3.5%

See PayPal fee.
Visa, MasterCard, American Express
U.S. Dollars
2.5% + $0.99
$9.95
Eventbrite: 3.0%

See PayPal fee.

See Authorize.Net pricing.
Visa, MasterCard, American Express, Discover
Tip: Don't see your currency? Check out our full list of supported currencies, fees, and payment methods.
Note: Eventbrite takes security and the protection of personal information very seriously. Check out our security guidelines for more information.
How to see fees for your event
Eventbrite service fee and payment processing fee amounts depend on a few factors, all set by you:
- Ticket price for each ticket type
- Currency you're using to take payments (see chart above)
- Payment processor selected for collecting online payments
You can see a breakdown of your fees by hovering over the icon next to Buyer Total next to each ticket type on Step 2 of your Edit page. If you're using PayPal or another payment processor to collect payments, this icon only shows the Eventbrite service fee—not the payment processing fee these companies charge themselves.
If you've already started selling tickets, you can see any fees to date from your event invoice.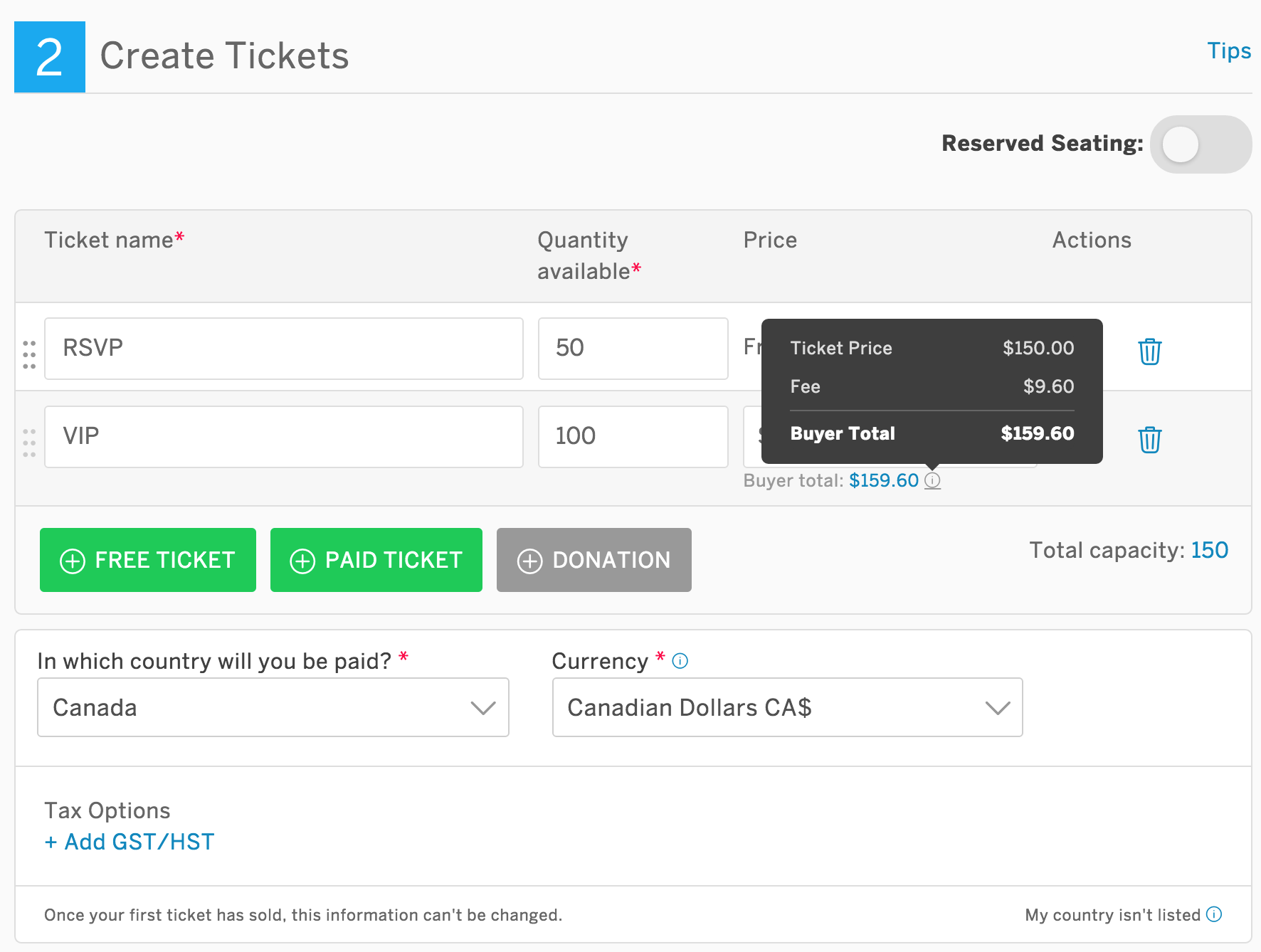 Tip: You can choose whether to stick with the default setting of passing fees on to your buyers or absorb the fee yourself. When you use Eventbrite Payment Processing, you also have the option to split the fees.
Pro Tip: Eventbrite fees are returned if orders are refunded.
Example: The Opera House charges CA$150.00 per ticket for their annual charity gala. They use Eventbrite Payment Processing to collect the money which costs CA$5.25 per ticket. The Eventbrite service fee is CA$4.74 per ticket. The Opera House chooses to pay both fees instead of passing them on to their buyers, so they will receive CA$140.01 per ticket sold from Eventbrite.
More resources
We know it's really important to understand all the finances around your event. Here are some additional resources that might help answer any questions you may still have.